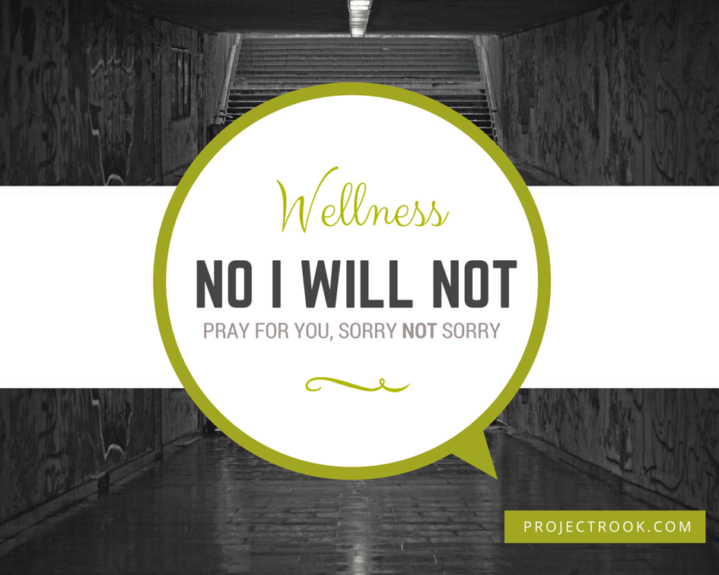 No, I Will NOT Pray For You
Yes you read it correctly and yeah I already know, this one may not go over too well with most people.
But I meant what I said, I will not pray for you so do not ask.
Now before you call me a selfish heathen, let me explain.
There's a real delusional, irresponsible, lazy mentality that's floating around that is beyond exhausting to me. And as usual the biggest culprit behind this is —> religious ideologies.
So let me see if I understand this correctly.
In one breath you are a child of God, you can do all things, you're the head and not the tail, you are a chosen people, by His stripes you're healed, you can speak those things that are not as though they were, as you think so you are…….but yet…you're still sick, broke and destitute?
You see I have a real problem with that.
Because the fact of the matter is, if you are confident enough to shove your ideals and beliefs in everyone else's face, YOU should at least be able to benefit from these constructs yourself.
But no, you want a crutch. You want something that removes all of your responsibility and puts it on someone/thing else. And no, I'm not participating.
Do you have the right to do whatever you want? Absolutely. Live the way you want by all means but stop wasting other people's time demanding they exercise faith you refuse to.
In order to grow and flourish mind, body and spirit you have to work!
Not live and eat reckless, not waste time watching television and gossiping, not spending money you don't have but get serious with the divine spirit that empowers you to take complete control over your life.
How asinine is it to believe in a power you can't seem to access?? Ask yourself how many times have you prayed or asked someone else to pray for you about the SAME thing over and over. What does that really say? That your prayers aren't getting through, that God ain't hear you the first ten times? Come on now, think.
If you have a brain there is a reason, if you have a body there is a reason, if you have a spirit THERE IS A REASON. Stop disrespecting the creator by allowing these gifts to lie dormant.
Is prayer bad? no. Is prayer useless? no. However it has been and is being misused. Prayer is your communication channel to God, not a cushion to use as an excuse to remain powerless.
Prayer is vital because it is your way to speak and decree over your life. I would even go a step further and challenge you to meditate. Why? Because sometimes you just need to shut up, become at peace in the present moment and listen to what your divine spirit has to say to you.
The point is, prayer is not "your savior".
You can not disrespect the role you play in determining your outcomes and expect to just pray everything away, it simply does not work that way.
There are universal laws in play, i.e. the law of cause and effect. Eating poison for years and getting cancer but refusing to adjust your lifestyle and just praying about it is not going to change your situation. Sorry it's not. Not becoming and remaining a lifelong learner and obtaining valuable skills but praying for a better job….yeah…no.
Am I lying? Think about some of the most wonderful people you know, beautiful praying folk. Saints, grandmas, mamas, whomever. Then look at their life. Honestly now if all you had to do was pray, what happened to these genuinely praying people??? Something ain't adding up.
Love, there is only one common denominator here and it's YOU!
Your mind and your actions are what you have to master.
The great news is that you were so intelligently designed that you have the ability to do just that!
So no, Rook will not pray for you lol BUT trust and believe that it doesn't matter because you don't need me to.
Look within, and work without.
Think for yourself and activate your own divine power.
Then use mindful prayer to declare peace, love, light, abundance, health and wealth over your life.

Think about this, if God dwells within you, what is it really that you can not do?

Previous Post

Next Post