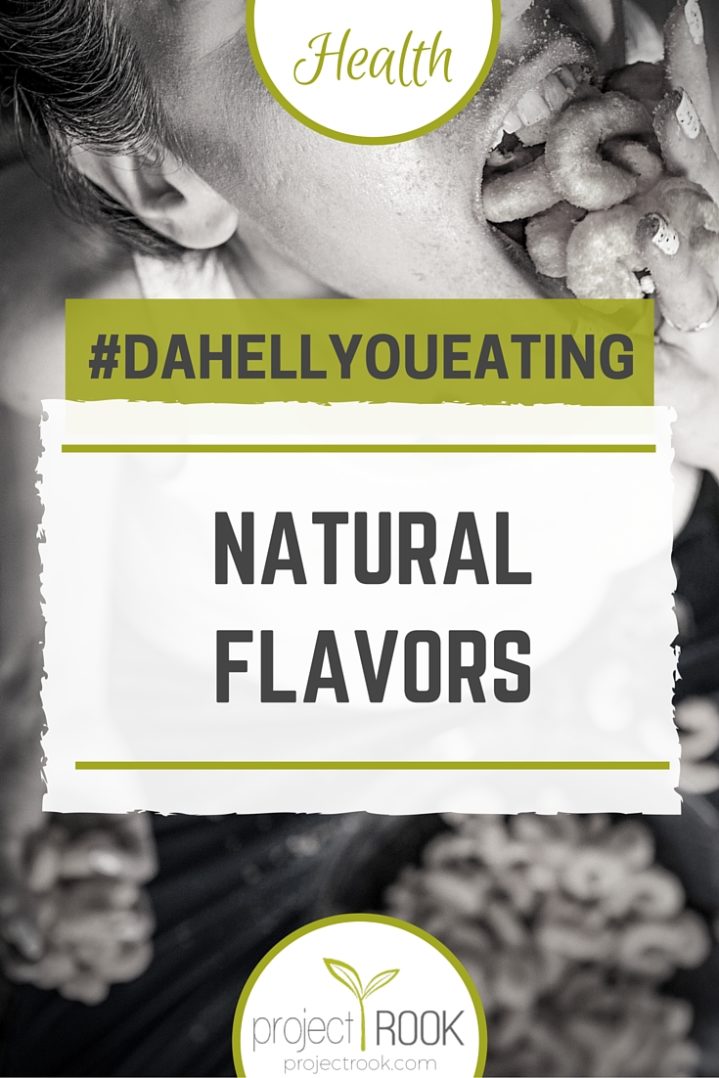 #DaHellYouEating: Natural Flavors
Hey you.
What are you eating? And why are you eating it if you don't know what it is?
I think I will make this the first of, let's call it, #DaHellYouEating series where we're explore the many things we eat out of ignorance habit but in reality have no clue what it is.
Yes I am going to get on your nerves challenge you to wake up and ask​ questions. To stop playing the victim and stand up and take control over your health but more importantly what you put in your mouth.
​People are sick, overweight and dying, and insanely enough convincing themselves this is the "norm".
So #DaHellYouEating?
First up is "natural flavors".​
I can not stress enough the importance of self/spiritual development because above all it opens your mind up to the world we live in. Once you understand the game then you are ready to play.
​You ARE in the game whether you want to be or not, so you best figure out how to win.
​
With that being said in order to understand what's going on with our food you have to understand business, marketing, and the food industry.


We can all agree that ​slowly but surely people are waking up and realizing that processed and chemical laced "foods" are in large part contributing to the degradation of our health.
​
As a result people are starting to keep a closer eye on the things they are eating.
Increased consumers awareness about health and environmental concerns helped propel U.S. sales of organic products 11.5% in 2013 to a record-setting $35.1 billion, up from $31.5% from the previous year, according to the 2014 Organic Industry Survey.
Natural Products Insider
What's the point Rook?!
​
The point is money - or how you're spending it I should say.​
​
The food industry is in business to make ​money.
​
For years they figured they could package a bunch of junk and you'd buy it as long as it tasted good and was convenient. So far they've been right.
​
BUT in the past 10+ years the organic and "natural" wave has forced the food industry to pay attention.
​
That they have, and that's where things get tricky.
​
Since the consumer has started to care more and more about what ingredients are in the foods they eat, the new hustle for the food industry, in cahoots with its partner in crime, the government/FDA (Food & Drug Administration), is to come up with more creative ways to manipulate words/ingredients so that you will think you are eating something safe and natural.
​
People please understand! A multi-billion dollar industry is not going to be short changed simply because you decided to adjust your eating habits.
​
They have mastered the art of adaptation and studied human behavior.
​
As long as you believe you are eating something that is safe, harmless and taste good, the numbers show you will buy it, not once but over and over again.
​
NATURAL FLAVORS
WHAT da hell are natural flavors?
What it is? You see it on everything from breads, to meat, to cookies and juices.​ Stop right now and go and look at every packaged, bagged, canned, and jarred food item you have and tell me how many times you see natural flavor, natural flavoring, natural flavors.
Don't you find it rather odd that you see an ingredients list that will include everything like, garlic, onion, paprika, then strangely add natural flavor. Well if you could list the other flavors what exactly is considered a natural flavor, and what makes it so exclusive.
Look at some of the favorites​:
Whole corn, vegetable oil (corn, soybean, and/or sunflower oil), salt, cheddar cheese (milk, cheese cultures, salt, enzymes), maltodextrin, wheat flour, whey, monosodium glutamate, buttermilk solids, romano cheese (part skim cow's milk, cheese cultures, salt, enzymes), whey protein concentrate, onion powder, partially hydrogenated soybean and cottonseed oil, corn flour, disodium phosphate, lactose, natural and artificial flavor, dextrose, tomato powder, spices, lactic acid, artificial color (including Yellow 6, Yellow 5, Red 40), citric acid, sugar, garlic powder, red and green bell pepper powder, sodium caseinate, disodium inosinate, disodium guanylate, nonfat milk solids, whey protein isolate, corn syrup solids. (Look at the amount of sh*t in doritos!!)
Tomato Concentrate from Red Ripe Tomatoes, Distilled Vinegar, Sugar, Salt, Onion Powder, Spice, Natural Flavoring.
High Fructose Corn Syrup, Vinegar, Tomato Paste, Modified Food Starch, Salt, Pineapple Juice Concentrate, Natural Smoke Flavor, Spices, Caramel, Sodium Benzoate As A Preservative, Molasses, Corn Syrup, Garlic, Sugar, Tamarind, Natural Flavor.
Enriched Flour (Wheat Flour, Niacin, Reduced Iron, Thiamine Mononitrate, Riboflavin, Folic Acid), Sugar, High Oleic Canola Oil and/or Canola Oil, Dextrose, High Fructose Corn Syrup, Salt, Cornstarch, Baking Soda, Natural and Artificial Flavor, Soy Lecithin.
Pure Filtered Water, Sugar, Lemon Juice, Natural Flavors.
Apple Juice from concentrate ( water, apple juice concentrate), Cucumber Juice from concentrate (water, cucumber juice concentrate) Celery Juice from concentrate (water, celery juice concentrate), Kiwi Puree, Banana Puree, Lemon Juice, Kale Juice, Romaine Lettuce Juice, Spinach Puree, Green Bell Pepper Juice, Spinach Puree, Green Bell Pepper Juice, Pineapple Juice from concentrate (water, pineapple juice concentrate), Chicory Root Fiber, Natural Flavors, Spirulina, Wheatgrass
Clif Bar Organic Trail Mix Bar
Organic Almonds, Organic Tapioca Syrup, Organic Dried Cherries (Cherries*, Dried Cane Syrup*, Rice Flour*), Organic Dark Chocolate (Dried Cane Syrup*, Unsweetened Chocolate*, Cocoa Butter*, Soy Lecithin, Vanilla Extract*), Organic Coating (Dried Cane Syrup*, Palm Kernel Oil*, Cocoa*, Soy Lecithin*, Vanilla Extract*), Organic Roasted Soybeans, Organic Dried Cranberries (Cranberries*, Dried Cane Syrup*), Organic Inulin, Organic Rice Crisps (Rice Flour*, Dried Cane Syrup*, Salt, Calcium Carbonate), Organic Cashews, Organic Sunflower Oil, Sea Salt, Organic Natural Flavors, Mixed Tocopherols (Antioxidant) *Organic
As you can see, natural flavors are in almost everything. From your typical junk food to the "healthy" and organic foods.
Now I know, what's the big deal? I mean it's in the healthy and organic foods so certainly it must be ok.
Well I will ask my original question. What are natural flavors?
Since you only listen to your gubment officials/organizations let's see how the FDA classifies natural flavor:
(3) The term natural flavor or natural flavoring means the essential oil, oleoresin, essence or extractive, protein hydrolysate, distillate, or any product of roasting, heating or enzymolysis, which contains the flavoring constituents derived from a spice, fruit or fruit juice, vegetable or vegetable juice, edible yeast, herb, bark, bud, root, leaf or similar plant material, meat, seafood, poultry, eggs, dairy products, or fermentation products thereof, whose significant function in food is flavoring rather than nutritional.
FDA Code of Federal Regulation - 21CFR101.22)
Hmm. So basically as long as the product contains flavoring that has come from a part of (doesn't specify how big or small that part is) anything that is considered "natural" (ranges from fruits and vegetables to meat and dairy products) it can be classified as natural flavoring.
Let's put this in perspective. Check out this video below where 60 Minutes is reporting on food flavoring and at minute mark 5:00 Morley Safer admits that "strawberry and vanilla flavoring can come from the gland in a beaver's backside (its funky ass)" and be considered a natural flavor!
Let that sink in for a moment. Beaver's ass is FDA approved as a natural flavor.
The point here is you really do not know what you are eating when you eat food that is labeled with natural flavors.
Whether artificial or natural, flavors are added chemical concoctions that were created in a lab in order to create an obsessive craving in your mind and body - one that makes it that much easier for you to overeat and become addicted.
We joke about our favorite juice or cookie having this weird uncontrollable crack-like effect on us when we eat it but on an energetic and chemical level that is exactly what is happening.
This is better known as the effects caused by excitotoxins. Dr. Russell L. Blaycock explains in his book, Excitotoxins - The Taste That Kills, that excitotoxins are taste enhancers that are found in many food products that damage our brain cells.
The most popular ingredients that excitotoxins can be found in are MSG (monosodium glutamate), and aspartame (oh this is definitely next up on the next episode of #DaHellYouEating). And guess what often contains MSG -- natural flavoring.
Just think of the effects this is having on not only adults but on our children. And you think what you eat doesn't affect your behavior or mental health? Think again.
TAKE BACK YOUR POWER
There's a dangerous game being played with our food and the machine is doing a damn good job of staying in control of both the food supply and the government agencies supposedly operating in the people's best interest.
Yeah yeah, they're wrong, it isn't right, yadda yadda. But if we KNOW this - if we know the game - if we see the trap and still fall in, who's really to blame?
Easier said than done, I get it.
But the bottomline is if you don't take control over what #DaHellYouEating you won't be around long enough for the blame game to even matter.
​
DO NOT freak out and start feeling defeated. Knowledge is about empowerment not about being fearful.
While it may not be practical to eliminate every single thing in your life/kitchen that has natural flavoring, be mindful of how much of this stuff you're putting in your body, and when you can look for better options. If you can't eat better right away, at least eat less (chemicals)!
Realize you can't beat nature. Every single favorite junk food you have is derived in some form or another from a real ingredient and flavor. Think about the real foods you do like, fruit and vegetable wise, and start implementing them in your diet. If you're reading this, you have the internet so that means you have access to TONS of alternative/natural options and recipes.
Photo by: Ryan McGuire

Previous Post

Next Post