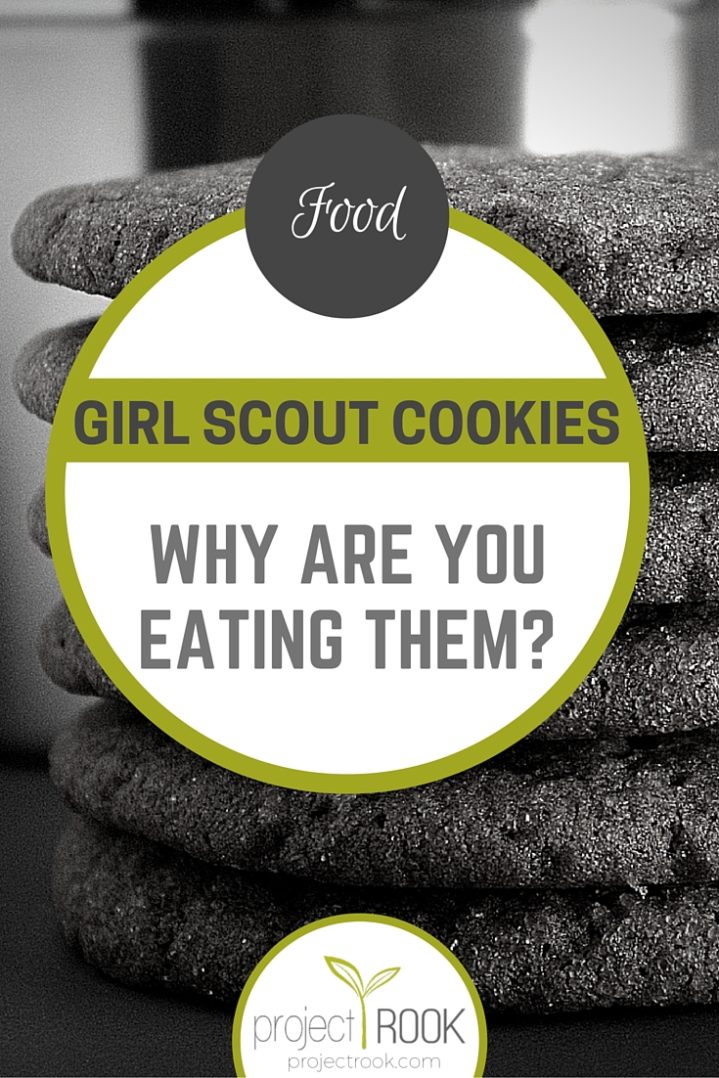 Girl Scout Cookies: Why are you eating them?
It's that time of year where the Girl Scout hustle is in full effect. Yes it's a hustle because this kid-friendly cookie drive is ran almost like a drug operation.
Sell, sell, sell, as much as you can as fast as you can. Keep the supply going because the people can not live without their fix.
More...
Miss your quota and you may find yourself facing a lawsuit for unsold cookies.
Who doesn't want to support some hardworking young girls? Girl power, right?
Besides, the cookies are pretty good too, yes I know, I used to eat them as well.
The problem here isn't eating girl scout cookies but rather, WHY you eat them.
Do.you.know.what.you're.eating.​
In the 21st century our tastes buds, our brain chemistry, our biochemistry, our hormones and our kitchens have been hijacked by the food industry. Mark Hyman
WHAT'S THE BIG DEAL?
You gotta admit, the business model in ingenius.
Send out cute little girls who are ​doing nothing wrong but trying to "make the world a better place, and solicit to the people who already want what they want - the cookies.
Even for those who don't necessarily want the cookies, well, it's kind of hard to turn down the kiddies especially when they're out in the hot or cold working hard.
​But are you really helping them though? Or yourself for that matter?
I often hear the argument that there's nothing wrong with indulging some of the time. But that's not what you're doing and you know it.​
When you do something consistently it is in fact a habit.
I know people who buy a surplus of Girl Scout cookies so that they can eat these things year a round.
Yup sounds like a "some of the time" thing to me.
COOKIE INGREDIENTS
If you typically eat junk/packaged foods then what's in Girl Scout cookies may not be that alarming to you. Truth be told their ingredients do fare "better" than others I've seen, whatever that means.
Let's look at one of the favs.​
CARAMEL DELITES® GIRL SCOUT COOKIES
Sugar, enriched flour (wheat flour, niacin, reduced iron, thiamine mononitrate, riboflavin, folic acid), vegetable oil (palm kernel, palm, hydrogenated coconut and soybean oils), coconut, corn syrup, high fructose corn syrup, sweetened condensed milk (milk, sugar), sorbitol, cocoa (processed with alkali), corn sugar, whey, glycerine, salt, soy lecithin, baking soda, natural and artificial flavor, monocalcium phosphate.
Sugar. GMO - YO! how is this thee first ingredient? Did you know the first item listed as an ingredient is the most prominent ingredient in the product?!
Hydrogenated oils. aka trans fat, which has been banned by the FDA (although they have given manufacturers until 2018 to remove from products.)
Corn Syrup. GMO
High Fructose Corn Syrup (HFCS). GMO (Here are 5 reasons you shouldn't eat HFCS.)
Corn Sugar. GMO - another name for HFCS
Soy Lecithin. GMO
Natural and Artificial Flavor. We've already discussed that this could be the gland of a beaver's ass for all you know.
One question - WHY are you eating this?
​For those who don't know, GMO stands for Genetically Modified Organisms.
GMOs are plants or animals that have undergone

a process wherein scientists a

lter their genes with DNA

from different species of living organisms, bacteria, or viruses to get desired traits such as resistance to disease or tolerance of pesticides.
Mother Jones
Although I like to include reference sources for the information I'm sharing, for real, for real, I want you to know that I personally believe common damn sense should supersede all of that.
​Do you know that GMOs have been banned in 38 countries. 38.
Don't you find that strange or interesting at the very least?​
How does eating a genetically altered organism affect your body? And why is this such a concern for 38 countries to completely ban it from their food supply?
I'll leave the GMO discussion for another day but the point here is why would you knowingly and willingly continue to poison your body all in the name of good will? ​
THE POINT
I'm not here to argue over the work the Girl Scouts have been able to do or the efficacy of their programs.
However following tradition and continuing to do the things simply because we are emotionally tied to is where we usually go wrong.
Companies know this. Our insatiable habits supersede any logic thinking on our part and as long as we don't question what we eat, the food companies/manufacturers will continue to act accordingly.
There have been several attempts to shed light on the real deal behind Girl Scout cookies, but has didn't work because people simply don't care. They don't care what they eat and what these things may be doing to their bodies.
The Girl Scout motto is: "building girls of courage, confidence, and character who make the world a better place."
Sorry to tell you but using little girls to hustle your poisons is not making our world a better place, my friend.​
If the Girl Scout organization is where your support and allegiance lies, great, but there are other ways to support the organization without buying and eating their trash cookies. Hint: Volunteer and/or Donate.​
So...how many boxes of girl scout cookies will you be buying and eating?​
photo credit: Sugar-Topped Spice Molasses Cookies - IMG_4855 red tsf via photopin (license)

Previous Post

Next Post